While most kids count down to the start of Summer, many parents see the challenges just around the corner. And it is no different for parents of children with special needs. The absence of a school routine or a break from regular therapy sessions leaves the calendar wide open. In hopes of restoring excitement for both parents and children, we've compiled a variety of activities that will set your entire family up for memorable summer days.
Pinterest and YouTube are wonderful resources for adding some pizzazz to Summer fun.
1. Colored Ice and Shaving Cream. While it may sound like an unlikely combination, it is not only a unique way to cool off on a hot summer day, but a joy to a child's senses. Simply fill ice cube trays, drop in food coloring (or just fill with washable tempera paint for a bolder color), then freeze. Cover a table with shaving cream, drop in the ice cubes, and let the fun begin! Your child will be thrilled with the colorful swirls he or she creates as the ice melts into the shaving cream.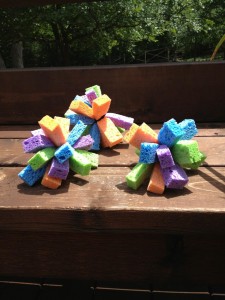 2. Sponge Play. Use different size sponges, practice squeezing for hand strength or create a
sponge walking path. Kids love water balloons, but check out this great alternative: Sponge Bombs! So easy to make, no messy balloon pieces to pick up, and use them again and again!
3. Outdoor Music Wall. Anchor a variety of items to a wooden wall or tie them to a fence: muffin pan, bamboo chimes, oven rack, washboard or even xylophone parts. Most kids love to be in charge, so consider letting them pick the items to feature (perhaps from a preselected group of items). Or, create a Musical Tree by horizontally hanging a broom handle (or long, solid stick/branch) through a low tree, and from it, hang pots, cow bells, a metal triangle, a cluster of shells, empty milk container, and more!